Building Philosophy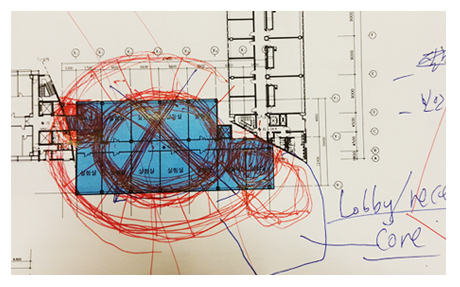 The motto of IBS Hall is 'Center Without Barriers (CWB)' to advocate an "Open" philosophy that can overcome gaps between scientific disciplines, cultures, genders, and nations to facilitate diversity and to generate new scientific discoveries in multi-disciplinary research themes. Shifting from a traditional research building that separates researchers into different laboratories and offices, IBS Hall offers a new paradigm of communication, collaboration, and creativity for cross-disciplinary work.
'Open Curvature' is the design concept of IBS Hall. Curvature implies a form for changes and flexibility with aesthetics. The most prioritized element of our design is to bring a research laboratory that could be modified depending on the purpose of experiments. Oftentimes experiments are adjusted to the predetermined space but the design of IBS Hall enhances otherwise by advocating space flexibility.
Its research laboratories with advanced instrumentation and communal discussion spaces facilitate interdisciplinary scientific exploration. The construction of IBS Hall was completed in February 2018. Located on Yonsei University Sinchon Campus in Seoul, IBS Hall sits amid a unique cluster of both traditional and advanced science and engineering buildings next to the world-class Severance Hospital.